Apply now!
In a rush? Simply drop off your CV by clicking on the button to your right, and we'll get in contact if we have a suitable vacancy.
Kamla Foundation
One of Our Chosen Charities

At First Recruitment Group we're proud to be supporting the Kamla Foundation. This exceptional charity provides invaluable support across India for people who are on the margins of society. They work with the poor, low-caste, tribal people and, in particular, with women to help them build and sustain their individual, family and community livelihoods.
Kamla's vision is to create an India where all people have an opportunity to live in dignity – free from hunger, deprivation and marginalisation.
Funding of £12,000 Towards Medical Vehicle
Our partnership has enabled Kamla to fund a much needed vehicle for the Medlife Foundation, which had an acute need for a vehicle to reach out to some of the most venerable communities in rural India.
We donated £12,000 towards the £16,500 8 seater vehicle. The vehicle has completely changed the way the Medlife Foundation now works, making them more responsive and quicker at addressing the needs of the most vulnerable.
Medlife Foundation Thank You for Kind Donation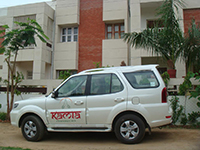 Dr Sheth from the Medlife Foundation said, "We have many urgent priorities as a small medical charity and the purchase of a vehicle was at the top of our list. We are indebted to First Recruitment Group and the Kamla Foundation for the kind donation of the vehicle. The vehicle will give us greater reach and access, ensuring faster treatment and after care for those suffering with cleft lip/palate deformities."
Our Staff Carry Out Their Own Fundraising
Not only do we support Kamla with one off donations, but our own staff get involved in fundraising every month too. Once a month on pay day, our staff donate money to our two chosen charities to help raise funds. Most recently our staff have organised a climb up Mount Snowdon to raise funds for these worthy causes too.
Support the Kamla Foundation
At First Recruitment Group we firmly believe in helping communities and making a difference where possible. The Kamla Foundation does great work through the work they do in India. They work to provide bore wells, so that villagers have clean drinking water, as well as Aquafilters, where bore wells are unsuitable. They also work with the Medlife Foundation who specialise in cleft lip and palate reconstructive surgery and much more.
"Their knowledge of the industry, our organisation and their candidates is one of the leaders in the market and they have always been able to supply us with the right calibre of engineering candidates no matter what the discipline or regional location is.
First Recruitment Group's service delivery has always been to a high standard and the customer service provided by the team has ensured that First Recruitment Group will remain a preferred supplier of engineering personnel to WorleyParsons on our future engineering projects."
"In my dealings with First I have found them to be responsive, knowledgeable, quality-focused and engaging in their approach. I would have no hesitation in recommending the services of First Recruitment Group to any prospective customers."

Help us with our survey
Do you feel the jobs market has picked up?