Quick Job Application
In a rush? Simply drop off your CV by clicking on the button to your right, and we'll get in contact if we have a suitable vacancy.
Frequently Asked Questions About First
Would you like to know more about how we can help you recruit the right people for your organisation?
We answer some of your questions here but please ask if you would like us to provide more information by emailing us at recruit@firstrg.com.
Please let us know if you would like to receive our full capability statement.
When did First Recruitment Group first open its doors?
We opened in 1997, in the North West, UK and have seen significant growth over the years.
How many employees do you have worldwide?*
Over 64 employees worldwide, over 40 of which are recruitment consultants.
What is your global coverage?
Our staff team up to make sure that no matter where you are in the world, whether a client or candidate, you will get the same high quality service.
We have offices in:
Warrington, UK – our Head Office
Thailand, Rayong
Australia, Perth
Ghana, Accra
Kenya, Nairobi
Albania, Tirana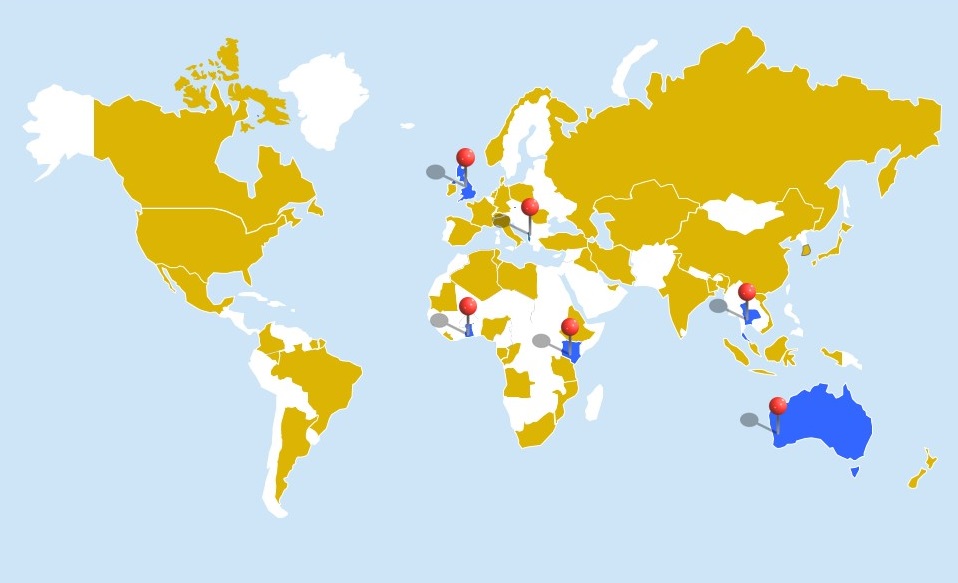 We work with a number of trusted strategic partners around the world and make sure that when we find candidates for our international clients, we follow full in-country compliance.
In which countries do you have strategic partnerships?
As well as our 6 in-country offices mentioned above we also have strategic partnerships covering…
Europe

| | |
| --- | --- |
| Denmark | Poland |
| France | Romania |
| Germany | Russia |
| Ireland | Spain |
| Italy | Switzerland |
| Netherlands | Turkey |
| Norway | |

Africa
| | |
| --- | --- |
| Algeria | Liberia |
| Angola | Mauritania |
| Congo | Nigeria |
| Cote D'Ivoire | South Africa |
| Egypt | Tanzania |
| Ethiopia | Tunisia |
| Gabon | Uganda |

Middle East

Americas
| | |
| --- | --- |
| Argentina | Suriname |
| Brazil | Trinidad & Tobago |
| Colombia | USA (Houston) |
| French Guyana | Canada |
| Mexico | |

Asia and Pacific

| | |
| --- | --- |
| Bangladesh | Malaysia |
| China | Singapore |
| India | South Korea |
| Indonesia | Vietnam |
| Japan | |

Australasia
New Zealand

How many contractors do you currently have on active assignments?*
There are more than 900 active contractors in placement around the world.
How many registered candidates do you have on your database?*
There are over 500,000 candidates on our database.
How do you keep this database up to date so that you know who is looking and who is not?
We have a great candidate relations team. They are responsible for contacting the candidates on our database to find out whether they are actively seeking a role. This assures our clients that our database is accurate and our candidates genuine. Through regular communication we record up to date CVs as candidates change roles, and mark those currently in employment and not looking for a job.
Candidates and contractors appreciate our personal approach and regular communication and many of them keep coming back.
What are your main specialist areas of recruitment?
Our main areas of expertise are Energy, Infrastructure, Manufacturing, Chemicals, Aerospace & Defence, Technology, and Commercial.
Our specialist recruitment consultants are dedicated to working in these sectors, building up experience of the industry over their years of employment with First. We give our employees training to understand their industry, well as reading material to study and further their knowledge. We keep up to date with industry trends and news to ensure we can pass on knowledge an insights to our clients.
Contact our friendly team today
If you're a client or candidate with a question please do not hesitate to contact us by emailing recruit@firstrg.com or calling +44 (0)1925 907000.
*information is correct at the time of publishing
"Their knowledge of the industry, our organisation and candidates is one of the leaders in the market. They have always been able to supply us with the right calibre of engineering candidate no matter what the discipline or regional location is.
"First Recruitment Group's service delivery has always been to a high standard and the customer service provided by the team has ensured that First Recruitment Group will remain a preferred supplier of engineering personnel to WorleyParsons on our future engineering projects."
"In my dealings with First I have found them to be responsive, knowledgeable, quality-focused and engaging in their approach. I would have no hesitation in recommending the services of First Recruitment Group to any prospective customers."

Global Engineering Consultancy
Help us with our survey
Do you feel the jobs market has picked up?