Quick Job Application
In a rush? Simply drop off your CV by clicking on the button to your right, and we'll get in contact if we have a suitable vacancy.
MARKET INTELLIGENCE: Job adverts - what do candidates look for?
15 Aug 2017
Businesses are only ever as good as the talent that they employ, which is why we have conducted research into candidate attraction through job advertising.
We surveyed 1278 temporary and permanent candidates, asking which elements matter the most when deciding to apply for one job over another. The results are summarised in the infographic below.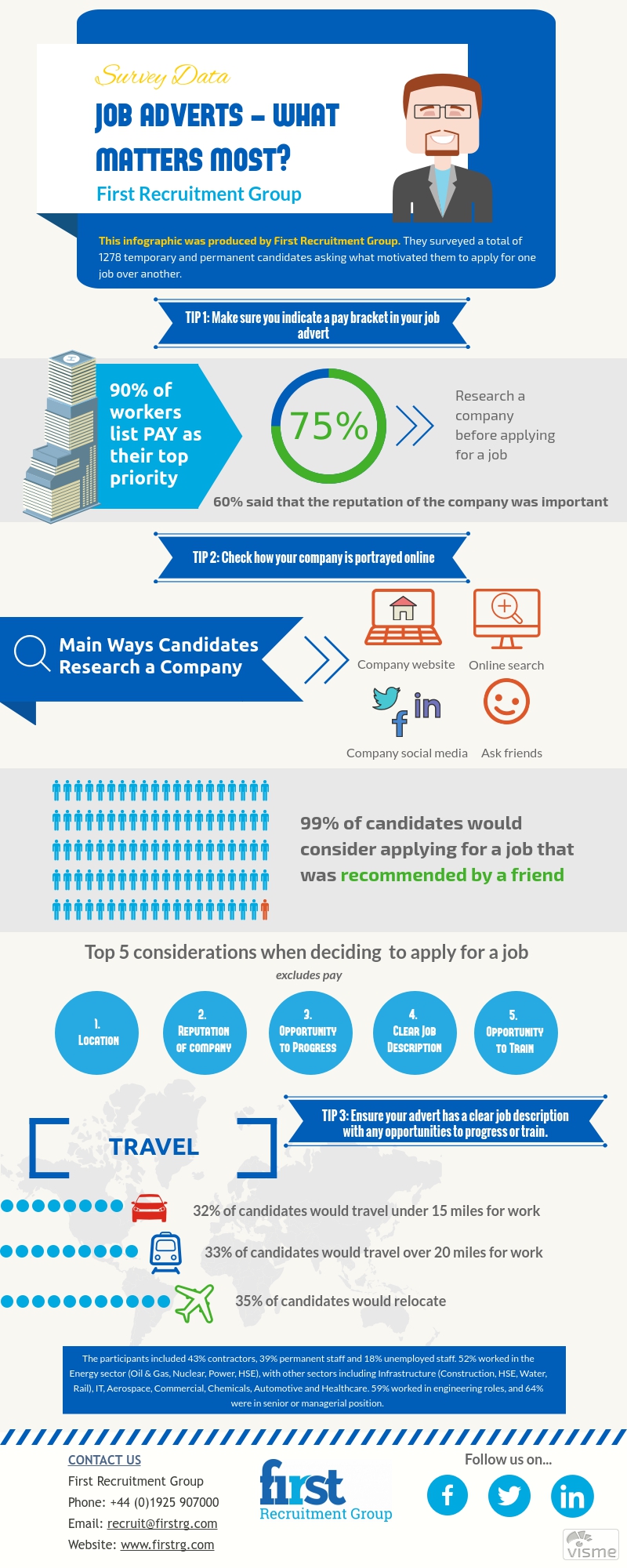 Clear job descriptions matter
Half of candidates surveyed looked for a clear job description as well as an opportunity to progress. Proving less important were pensions, bonus schemes, free gym memberships and voucher schemes, with only 4% of candidates (sales staff) caring about a company car.
How far will candidates travel for a job?
The data also showed that 32% wouldn't travel over 15 miles, 33% would travel over 20 miles for work and 35% would relocate for a job. The Office for National Statisitics carried out a report showing that between 1976 and 2001 the average commuting distance increased by over 60% to 3.7 million UK commuters. Within this time car use increased dramatically, however many blame stagnant wages and soaring housing costs for the increase.

Difference between contractors, perm employees, sectors
When comparing contractors, perm employees and the sectors that they worked in, the data showed little difference, showing that candidates generally look for the same key points in a job advert. The only noticeable difference was that 44% of contractors would travel over 20 miles, compared to 27% of permanent staff.
Job advert checklist
Pay - Make sure you include a pay bracket into your job advert, and ensure it is competitive in your market and location
Location - Indicate a specific location
Job Description - Ensure that your job description is clear with a list of regular tasks and essential criteria for applicants
Reputation - Check how your brand and culture appears online. Does your careers section represent your business accurately? Do you know if people writing reviews of your business online?
Word of Mouth - Find out what your employees and contractors think of your business with surveys. If there are issues fix them, if there are good testimonials use them. Ensure word of mouth is working with you not against you
Recommendations - Keep in contact with past employees and contractors to see if they can recommend anyone to your business. Recommendations work.
Attract the best talent with an effective job advert
The results reveal the importance of getting the fundamentals right – pay, location and job description. Benchmarking is a great way to find out if your company is advertising the right level of pay, so that you can stay competitive in your market.
Our survey shows that reputation really does matter, and that most candidates will research a company to find out how its represented and what people say about it. Make sure the Careers Section on your website gives a true reflection of the company values, benefits and charity work. Using testimonials from employees can be a great way of giving your company more credibility too.
And remember that word of mouth is a powerful thing, so try and use it to your advantage by conducting exit interviews with both employees and contractors. This can help you to continually improve, sort out any issues, and also to collect valuable testimonials from staff that are happy. After all, 99% of workers would consider applying for a job that is recommended by a friend.
If you need help with attracting the best talent to your company, you can email us at recruit@firstrg.com or call +44 (0)1925 907000.
"We have required a number of Quality Assurance/Quality Control candidates within the Nuclear Industry. Since early 2016 First Recruitment Group have provided a number of QA/QC professionals in locations across the UK.
"We have been very pleased with both the quality of supply and the customer service demonstrated and will continue to use their professional services in the future."
"I have worked with First Recruitment Group as my partner of choice across a number of large and challenging Oil & Gas projects internationally over recent years.
"First are a high performing business who are built on credibility, honesty, expertise.
"As we push the frontiers of projects and move in to more and more challenging and locations, First will continue to be my partner of choice to help us deliver our projects with confidence."
"I have had the pleasure of working with First Recruitment Group over recent years and we have formed a great working relationship. Their understanding of our exacting requirements is outstanding.
"The First team are highly experienced and knowledgeable across the recruitment spectrum and operate in the manner you would expect of a professional outfit of their stature. Their attention to detail and approach is faultless and their commitment and drive has helped our business with unique, complex and difficult recruitment requirements.
"Sarah, our Account Manager, is an incisive thinker as well as hardworking, diligent and reliable and has an extremely helpful and flexible approach to her work. This reflects in her team and with their ability to communicate at all levels in an honest and trusted consultative manner and gives us great faith in their ability to identify candidates who can help us to drive forward and achieve our business goals.
"I have no hesitation in recommending First as a recruitment partner and feel they would be worthy of selection for any engineering or manufacturing business looking for an intelligent and innovative solution."

"There is nothing negative about the service that we've received from First. Without fail they have produced positive feedback. The fact that they have placed a diverse range of skills from PA's to Engineers, just goes to show that they have the core skills, intelligence, and initiative that make them great recruiters, and preferred partners."
"It's great to work with a recruitment agency we trust. The team at First Recruitment Group are friendly and straight talking and they continue to provide an excellent service. We're proud to still be working with them after 20 years."
Simon Carves Engineering Ltd
Help us with our survey
Do you feel the jobs market has picked up?