Our Client Development Director, Nick Catterall, celebrates his 11th anniversary at First Recruitment Group this year. To mark the occasion, we are celebrating his success by looking back at how he developed from a young Trainee Recruiter to a Director overseeing numerous departments.
Question 1: How did you get to where you are today? What's your story?
Back in 2006 I was at a cross roads. I had begun studying at Liverpool John Moores University but quickly realised it wasn't the right option for me at that point in my life.
So I applied for a number of recruitment roles and received an offer to interview at First Recruitment Group,
with one of the Directors, Andy Cartledge. I later found out that he was passionate about searching for the right personality and potential in candidates, rather than qualifications and experience. We spent a lot of time talking about football during the interview, rather than the job itself, and was offered a role working on their Environmental recruitment desk. I actually joined the company on my 20th birthday. Back then you had to work fast as it was a competitive candidate market, calling over 100 candidates every day. After a while, a member of the team left the business and I took the opportunity to take over his role on the Safety desk, which after a short period of time really took off. We eventually ended up taking on more staff in the department to help take it to the next level.
I was enthusiastic, with no ties, and so I then got offered the opportunity to go out to Australia to manage and develop our office in Perth. It was a valuable 9-10 months experience, learning to work independently, but eventually I decided to come back to the UK, with a new found motivation to grow my career. I talked to the business about continuing my studies in my spare time, and they were more than happy to support me in this, giving me time off for study when needed. I began a degree in Fire Engineering, which I'm still doing now through a UCLAN scheme.
When I returned to the UK, I joined Kathryn Dawber's team, on what was then called Team North, doing a hybrid role working to fill engineering roles in the North of the UK. I was getting involved in helping to develop our client relationships and also continuing in my role as a recruiter. During this time, I proposed the need for a Commercial team, recruiting for back office roles such as admin, sales, HR and financial, which was accepted, then setting up the team, which is still going strong today.
From managing the Commercial team's development, I then also started to oversee our Permanent recruitment team. I was given a few key client accounts to develop and after being recognised for my client development work, I was then appointed as Client Development Director. By helping to improve key client relationships, working collaboratively to achieve the results they needed, me and my team transformed a disengaged client, into one of our most profitable accounts.
Question 2: What challenges did you face in the process?
Good question. There are two main challenges I've faced. When I was younger I found it tough to get the right work-life balance, but I guess this is something most people go through and learn to get control off. From an operational perspective, the hardest time was when the Oil & Gas market crashed. It was a difficult period, when some areas we had been busy in dried up and our business had to adapt and change. Change is always hard as peoples roles changed, including my own, and the business saw this as an opportunity to diversify and adapt to a more client focused approach. I like to think that I embraced this change, through my own team and client development.
Question 3: What has been your biggest achievement?
Back in 2015 I made a prediction at our works Christmas Party, to our Director Andy Cartledge, that within a year I would help turn one of our clients into one of our top 5 most profitable clients; I achieved this with the help of my team, and I'm still proud to this day. At the works Christmas party the year after, I then made a bold statement telling the board that I would develop the same client into our most profitable client by the end of the following year. Again me and my team helped to achieve this too showing what you can do when you put your mind to it. The great thing about First, is that if you work hard, and get the results, you will be recognised.
Question 4: What's your favourite thing about working at First?
I am competitive and determined, which I guess you have to be to work in recruitment. So my favourite thing about working at First is beating our rivals to become recognised as the best agency with our clients. I love the feeling of making a difference and when clients come to me as their first choice, they're the moments where I sit back and think "you know, I'm doing something really good here". Also, being recognised for the hard work I put in is one of my favourite things about First. They notice and reward good work, which makes you want to go the extra mile.
Question 5: If you could give 1 piece of advice to anyone looking to succeed in their career, what would it be?
Don't get complacent; always push to be more than what you are. I think it's always important to not take things for granted and grab each opportunity that's thrown at you with both hands, taking everything in. Be a sponge and never stop striving towards your goal.
Question 6: Where would you like to see your career go from here?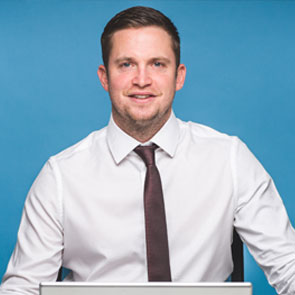 I want to continue to grow with First Recruitment, creating successes and helping us get to the point where we're seen as the best recruitment company. I also want to finally complete my Engineering degree, which I feel has already helped me develop my skills when working with engineering clients across all areas. I think my long term aim is to create a legacy, with First Recruitment Group, and to one day become a shareholder in the business.
If you'd like to join our team and become one of our many success stories just like Nick, send us your speculative CV here.